Biography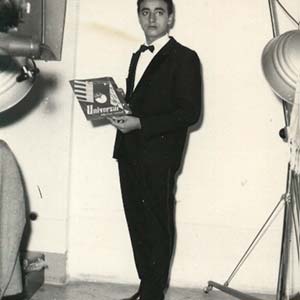 More than one hundred million records sold in the world. First artist coming from a Western country to be invited to China in 1984. A record of 370 concerts only in former Soviet Union. Called in many ways such as "The Ambassador of Neapolitan Song in the world" (Angelo Cavallo of "Il Mattino"), "Le Marco Polo de la chanson napolitaine (Le Figaro) and "The new Caruso" ("Times", "USA Today").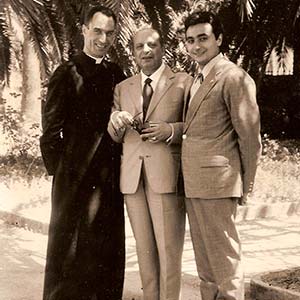 Sergio Bruni played a great role in his artistic growth. With him he made his debut in the musical Bruni canta Bruni in 1959. Bruni was for him his first master and not only for his voice. Later his important meeting with Michele Galdieri, a well-known personality in Italian variety show, and author of famous Neapolitan and Italian songs (Munasterio 'e Santa Chiara, Non dimenticar, Mattinata fiorentina). He adopted him as a son and helped him make his debut, when still very young, in Rai, in the historical programme Cicerenella, on March 6, 1966.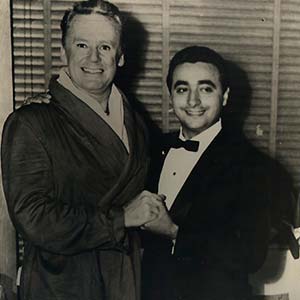 The beginning of his international career was marked by his triunphal tour in Canada and in USA in 1964, which was said to be a sensational event by newspapers, radio and television culminating with his debut at "Carnegie Hall" and the moving concert given at "Brooklyn Academy of Music", that is in the theatre, American temple of operatic music, today theatre-museum, where great Enrico Caruso ended his wonderful career in December, 1920.
Triumphal and world-wide was his tour in the Soviet Union in 1968, the third Italian artist who sang in Moscow after Claudio Villa and Domenico Modugno. Only then Venturini gave 80 concerts in the most important Soviet cities, under the aegis of Gosconcert. He was again in the Soviet Union years later. He gave a show for Breznev at the Kremlin Theatre. There he had the opportunity of meeting young Gorbacev and Raissa offering them his collection of records. On that occasion he was given "The golden Lenin"which had been given also to tenor Mario Del Monaco.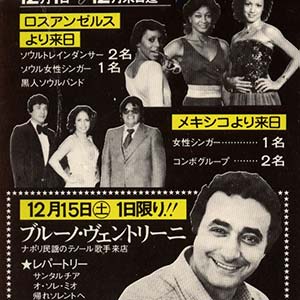 In 1972 the Academy of letters, science and art of Milan conferred him the title "honoris causa", "Accademico d'Italia, nobel class".
In 1977 he was in Japan with Aurelio Fierro, and showed "Napoletana", in the most important Japanese cities. More than 60 repeat performances.
In 1978 he toured again, but alone, in Japan, South Korea and Australia.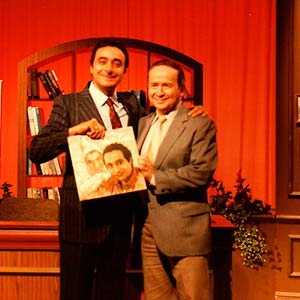 It is in 1979 that he met Salve D'Esposito, the author, together with Tito Manlio of Anema e core and other well-known songs. Their deep friendship with many concerts given together lasted until January, 1982 when Salve D'Esposito died. One year later Venturini, in Sorrento, the native town of the master, paid homage to the renowned musician on the occasion of the eightieth anniversary of Torna a Surriento.
In 1983 he was given the freedom of the city of Providence by the mayor Buddy Cianci Jr. and of New Haven by Benny Di Lieto. One year later he was given the platinum disc, as a guest of "Joe Franklin Show" - one of so many - for Bruno Venturini sings Mario Lanza and has sung in Russia, Brazil (together with Charles Aznavour), Argentina, Paraguay, Venezuela, Uruguay.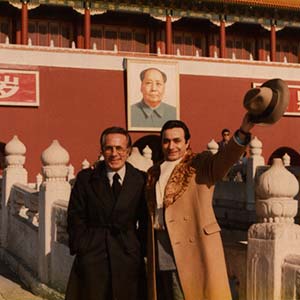 During his tour in China he has given a prestigious record to Naples: he has been the first artist from a Western country to sing in Peking in 1984, invited by President Deng Xiaoping, in post Mao China, bringing artistic neapolitan music into that wonderful oriental land. Deng invited him through the Chinese Ambassador in Rome.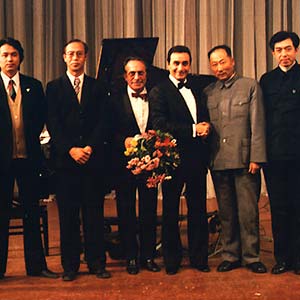 Venturini was touring in England, where he performed also for the royal family and asked for a later date. He was told that he would be the first artist from a western country to sing there and that Von Karajan would conduct the orchestra. Venturini immediately took a plane with his inseparable pianist and conductor Franco Zauli, Chairman Rignano and the general manager Fiocco of SIAE (Italian Authors and Publishers Association) were with them. Venturini favoured the succes of the relations between the two countries on the matter of copyright and was appointed SIAE member.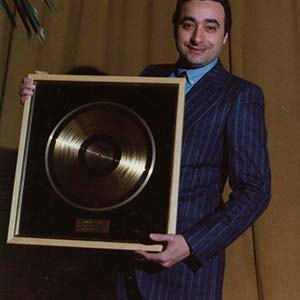 In 1985 his most sucessful record was published L'oro di Napoli, a collection inspired by the novel of the same title by Marotta, containing the most famous pieces of Neapolitan song. Only in few months the golden disc was obtained with one million of copies sold.
In 1986 he was in Holland, Belgium and France, where he recorded two special shows for television "Antenne 2", he was also in Brazil and Australia where he showed Una giornata a Sydney con Bruno Venturini (One day in Sydney with Bruno Venturini). In Perth (West Australia) he was a guest at Telethon of "Channel 8" by Rupert Murdoch with Michael Jackson and the group Chicago.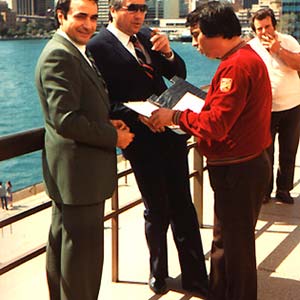 In 1988 he went again to New York to perform together with great American artists such as Tony Bennet and Barry White and in Australia accompanied by Franco Zauli.
In China he took part in world festival of arts organized by Shenzhen Zhuhai, and won the first prize for L'oro di Napoli. In 1990 he sang for the third time in China, where he won, for the second time, the first prize at the world festival of art at Tianjin for La Napoli di Caruso.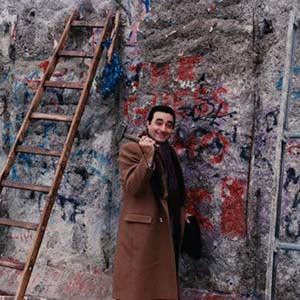 Later he toured Europe, performing in the Scandinavian countries, France, Germany (giving an important concert after the fall of the wall of Berlin). He was also in Belgium, Holland and particularly in Austria, on a tour demanded by the artistic director of the Staatsoper of Wien, Marcel Prawy, the guru of American opera and musical comedy.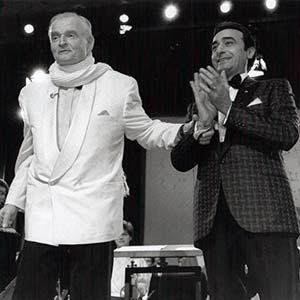 In 1994 he sang for the American President Bill Clinton on the occasion of G7 in Naples. Later Bill Clinton had him as a guest at the White House. In December of the same year he gave a charity concert in Austria on the occasion of the opening of Innsbruck Casino: patroness of the cerimony was Ornella Muti. He sang White Christmas with John Denver.
In 1995 he was again in Australia and in December of the same year the President of the Italian Republic, Oscar Luigi Scalfaro, made him Grande Ufficiale della Repubblica Italiana because of his artistic international merits (he had already been made Cavaliere in 1975, Ufficiale in 1978 and Commendatore of the Italian Republic in 1981).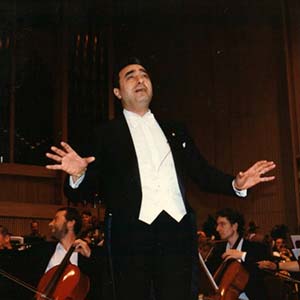 In 1996 he went again to Austria to the Brucknerhauss Theatre and in addition to the classical Neapolitan repertoire he sang great pieces of opera such as Vesti la giubba from Pagliacci by Leoncavallo, and E lucevan le stelle from Tosca by Puccini, conducted by Willie Anthony Waters. The well-known music critic of "Kurier" of Wien said "He sings the immortal songs of Naples in a true and original way, which his colleagues Carreras and Pavarotti, try to do, but in vain".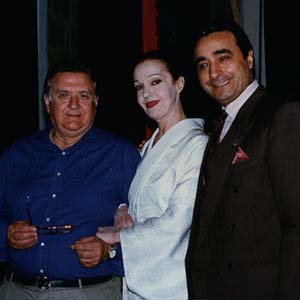 The Japanese film industry NHK engaged him for the television fiction Un bel dì vedremo, with the soprano Raina Kabaivanska, Giuliano Gemma, Massimo Girotti, directed by Tonino Valerii.
In 1997 was produced Omaggio a Caruso. A great tribute to the memory of the Neapolitan myth, where Venturini, for the whole year, has reminded the life of the great tenor with an Italian tour meeting with success.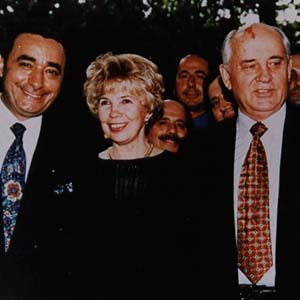 In 1998 he went again to America (where the Governor of Illinois, Jim Edgar, confered him the honorary citizenship of Chicago) and in Canada at "Paramount Canada's Wonderland" in Toronto, with more than fifty thousand people at his concerts (a great success that SIAE decided to award with an official cerimony at Lingotto in Torino on the occasion of the first Show of Music). Lucio Dalla at his concert in Salerno wanted to duet the piace Caruso.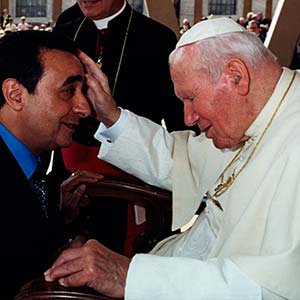 In 2000, in Australia, Venturini in on the first page of the daily "La Fiamma" of Sydney, after his successful concerts.
2001 is the year of Homenaje a Caruso in Spain in honor of King Juan Carlos, of the concert for Pope Giovanni Paolo II in St. Peter's (before him only the tenor Beniamino Gigli) in honor of his maternal uncle, the Blessed Soul Alfonso Maria Fusco. At the Royal Theatre in Palace of Caserta he performed Omaggio a Caruso in memoriam of the victims of the Twin Towers in New York, live RAI International.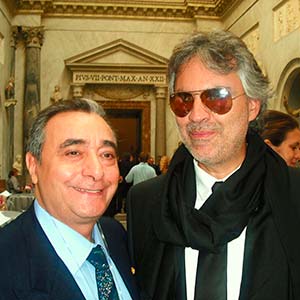 In the years from 2002 to 2006 there were many tours, among which the European tour of 2002 and that of Russia, Spain and Sweden in 2004. In 2009 Venturini is in the list of the 500 world artists (the greatest representatives of artistic expressions) invited to Vatican, on the occasion of meeting Pope Benedetto XVI in the Sistina Chapel, on November, 21.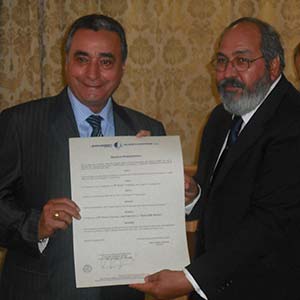 In 2011 he was given ad "honoris causa" degree in "Science of Communication" at Jean Monnet University of Bruxelles (Belgium) and one in "History of Music" at the University "Ruggero II" of Miami in Florida (USA). In 2012 his interpretation of Funiculì funiculà was chosen (among thousands of other versions) and used for the soundtrack of the film directed by Luca Miniero Benvenuti al nord, the sequel of Benvenuti al sud (2010).